avoiding the fate of the titanic
Business Continuity Advisory
Business Continuity Advisory
"Crisis is rarely a black swan, but mostly as a result of a lack of consistency."
For Bodo Antonic nothing counts more than securing the business activities and the continued existence of the company. Classic risk management is not enough. That is why he supports his customers in word and deed in creating vital, agile and crisis-proof companies.
Antonic's view of the subject differs fundamentally from the known approaches in two ways. For him, crisis is not a phase that must be avoided, but on the contrary must be sought.
Central questions are:
Where does the next crisis comes from and how do I avert the crisis?
How can I safely get the company out of the crisis phase?
How do I continuously "immunize" my company and my employees in order to create robustness and resilience?
According to Antonic, management has to drive the company into the crisis in a targeted and constant manner in order to create robust organizations and resilient employees. This reversal of logic creates stability and continuous business development.
Measurements
He uses a clearly structured business continuity advisory approach. This is based on a risk analysis (with the elements of leadership, employees, products, production and customers, a bottleneck-focused implementation and a systemically anchored "immunization plan".
Step 1: risk analysis
Step 2: implementation plan, implementation, stress test, improvement measures
Step 3: Building an in-house, risk-conscious management approach
"You are not afraid of risk, you look for risk in a targeted manner and learn how to deal with it."
Learn more about Bodo Antonic
and his background in Management
Siverra lectus mauris ultrices eros in. Eget egestas purus viverra accumsan in nisl nulla nisi scelerisque euvestibulum sed risus ultricies.
Crisis management: participative or topdown?   Where just a few days before the corona crisis caught up with us, the ether of discussion was full
Read More »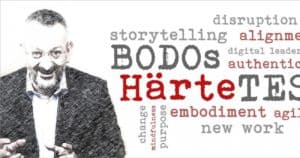 Resilience – when and how crises strengthen us The world of new management is full of eloquent terms and well-intentioned advice. Which of these works
Read More »
Ne quis mediocrem sit, dolor reprimique nec id, quo no scaevola vituperata.